Childcare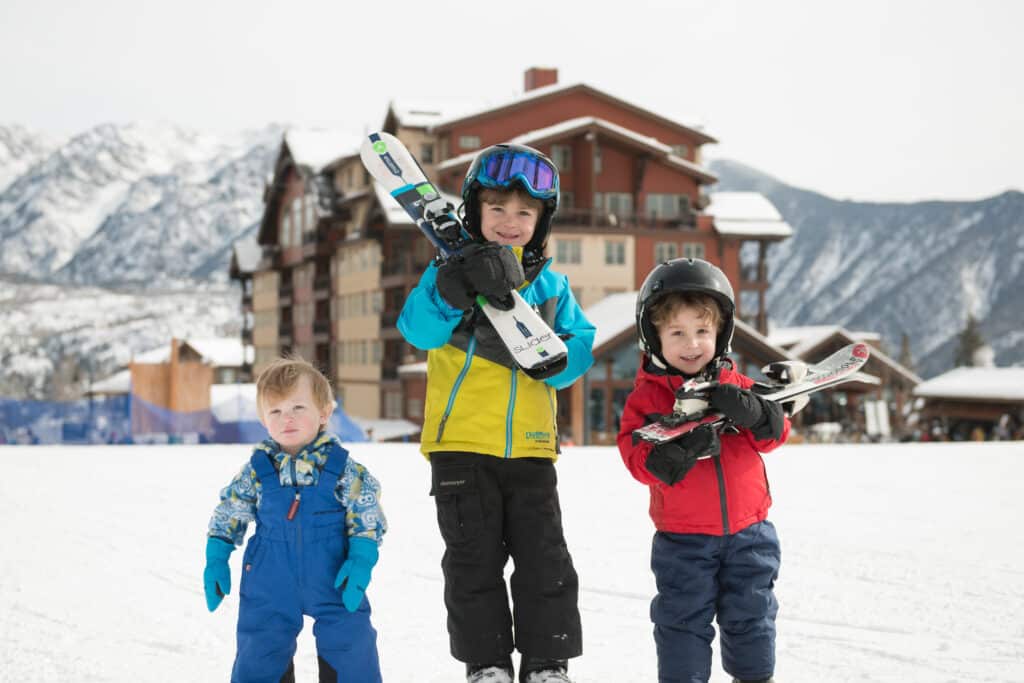 The Den
The Den is is a safe, interactive and engaging environment for your children to stay while you enjoy some you-time on the mountain.
We provide a range of daily activities such as exploring creative indoor projects or playing outside in the snow (weather permitting). This program is designed to introduce participants to winter environments, readiness and activities. Snow toys are provided by our facility.
Our dedicated staff have the knowledge, background checks and training to ensure the children in our care will have a safe and fun experience. We are happy to answer your questions and hear your concerns. Call us at (970) 385-2144 or chat with us on-site.
Please feel free to ask questions to ensure the services offered in The Den will meet your child's needs.
Our Purpose
To provide childcare for guests visiting our mountain resort during the winter season.
Our Philosophy
Our goal is to instill trust and confidence in parents and children by creating a safe and fun environment.
Hours
9:00am – 4:00pm
Winter 2023/2024
Dates
Scheduled opening December 8, 2023
Location
2nd floor of the Village Center Building
Ages
1-4
Price
$160 per child/per day
+ $40 per child/per day on peak dates: 12/26-1/1, 1/13-1/14, 2/10-2/11, 3/10-3/15
Lunch included
Contact
(970) 385-2144


[email protected]

Required Forms
Childcare Information Form
***This must be completed before we will allow your child to be dropped off***
Helpful Hints for your Child's Stay
Label all belongings prior to arrival.
Supply enough disposable diapers/pull-ups & wipes for all children not toilet trained. Label containers of wipes.
Bring a change of clothes (accidents do happen!) and appropriate outerwear.
Inform us of any allergies or dietary restrictions upon check-in.
Have proper ID to access The Den
The fine print
No Refunds will be given for cancellations within a 48 hour period of arrival to the childcare center.
Upon arrival, please check in at The Den Podium and sign in on the appropriate age sign-in sheet.
Please fill out the Childcare Information form prior to arrival so that you may let the staff know the details of feeding schedules and dietary restrictions.
Children who arrive ill to the center will not be admitted. Children who show signs of illness while at The Den shall be monitored and parents will be notified immediately to take the child back to parent's care for the day.
Children will only be released to persons for whom the center has written authorization. Written authorization will take place before the child is placed in the center on The Den enrollment form. Inform a supervisor immediately if an unauthorized person attempts to pick up a child.
Children who are not picked up after the center is closed will remain under the supervision of a childcare employee until the parent/guardian returns. Upon closing, Guest services will be contacted to help contact the parent/guardian. Children will only be released to persons for whom the center has written authorization.
Frequently Asked Questions
How do I register?
Registration is open! Click HERE to get started. You will only be able to register one day at a time. Walk-ins are not accepted at this time.
In order to secure a booking with Childcare at Purgatory resort, 48 hour notice is required in order to best serve our guests.
Will my child go outside?
We do our best to get outside to experience the snow and winter activities. Depending on conditions and safety concerns, we may choose to stay inside and engage in fun games and activities.
What activities are offered?
Our activities include indoor and outdoor games, as well as toys and age-appropriate arts and crafts. Children may watch videos during the day, especially at rest time; All videos will have a "G" rating. Child care attendants will supervise children during video viewing.
Is staff background checked?
Yes, background checks are required per our guest-care facility sanction.
Is lunch included?
What types of snacks are offered?
Our snack options are items like: graham crackers, goldfish crackers, cheese sticks, applesauce and other kid friendly snacks. (We do not provide milk.)
Will my child take a nap?
We will do our best to accommodate your child's rest and nap needs. We provide rest mats and toddler cribs. We follow Colorado safe sleep guidelines.
What happens if my child acts up?
The child will be addressed in a positive way. Every effort will be made to redirect the child. In the event the behavior persists, the childcare staff will contact the parents or guardian. This may result in the child being picked up early.
How will I be contacted if my child has an accident, illness or injury?
Every attempt will be made to contact the parents or guardian. The Den has a text system that parents can register for upon arrival.
Will I get feedback from staff regarding my child's day?
Yes, at the end of the day a child care attendant will explain how your child's day progressed.
Can I visit my child during the day?
Unless you are nursing, we recommend parents call verses visiting. We can give the extension to the childcare and text number for updates upon check-in to parents/guardians.