Snowcat Skiing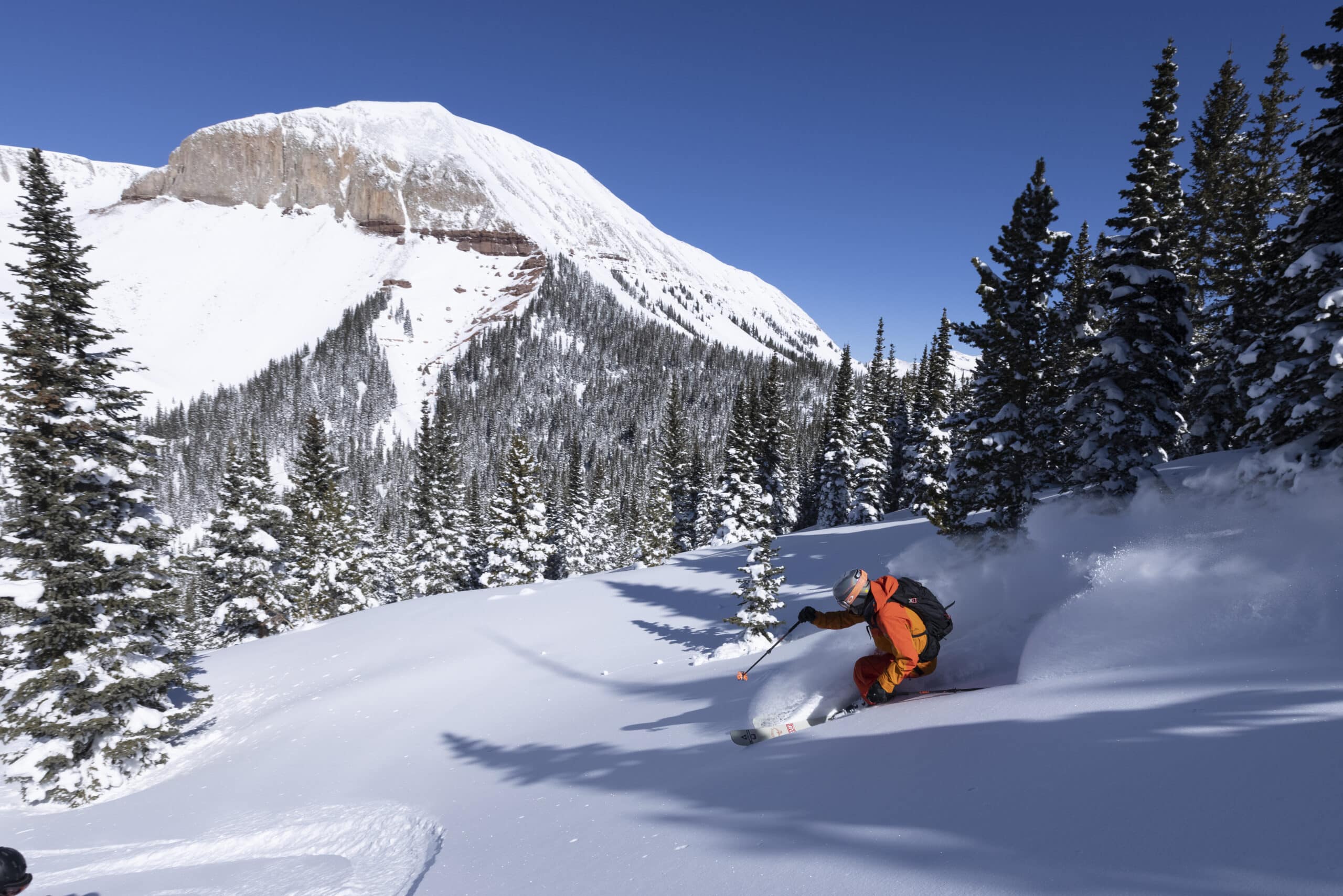 Join us for an unforgettable experience exploring 35,000 acres of breathtaking terrain.
2023/2024 reservations coming soon!
Purgatory Snowcat Adventures runs the largest cat skiing operation in Colorado, with 35,000 acres of breathtaking terrain, outside of the resort boundaries. Guests can expect an average of 8-10 runs and 10,000′ of vertical depending on skier ability and terrain conditions. With exceptional views of the Northern and Southern San Juan Mountains all to yourself, this will be a day of skiing you'll remember forever!
Your day of snowcat skiing or snowboarding includes avalanche gear, lunch and water (bringing your own water bottle is recommended). Morning orientation begins at 8:00am in the Purgatory Snowcat Adventures office located in the Village Plaza. Our highly trained guides will make an assessment of up-to-date snow conditions and skier ability to choose from three primary zones in our 35,000-acre terrain area. Skiers must be comfortable skiing black diamond runs consisting of deep powder, tight trees, steep pitches and unmarked hazards.
DETAILS
Cost
$650 per seat; $6,500 private cat rental
Includes lift ride to the snowcat, a full day of skiing/boarding, lunch (please let us know about dietary restrictions in advance), powder ski or snowboard rental and avalanche beacon. (Max 12 for private cat).
Dates
2023/2024 reservations opening soon!
Ages
Age restrictions based on ability and experience level
Departure Times
8:00am
Please arrive 15-20 minutes early.
Return Time
4:30pm
Trip Duration
8.5 hours total
Your Ticket to Untracked Powder
With access to over 35,000 acres of expansive terrain in the San Juan backcountry, Purgatory Snowcat Adventures' Highly trained guides choose from 500-1500 foot runs on light, untracked powder through trees, glades, and open bowls of varying pitch.
Meet the Team
We took advantage of this opportunity to write bios for our guides and turned it into a team-building exercise. Each member pulled a name out of a hat and wrote a short description of that coworker. We hope you enjoy this off-the-cuff, fun approach to telling you about our team!
Becky Kecman: Base Operations and Bookings Manager- joined in 2020
Becky is not only the brains of the operation and the wittiest of the bunch, but she is also the friendliest face at PSA. She runs a successful business in the summer and we'd be lost without her in the winter. If you know Becky, you love Becky!
Bio written by Nancy Wickham
The fine print
Reservations are required and must be made at least 48 hours in advance.
Trips canceled 15 days or more in advance will receive a refund less a 25% booking fee or the option to reschedule the trip during the same season for no fee.
Trips canceled less than 15 days in advance will receive no refund but can reschedule their trip for another date in the same season for a $100 fee.
There will be no refunds or changes in reservation made 48 hours prior to trip.
No refunds will be given for late arrivals or no shows.
Purgatory Snowcat Adventures reserves the right to cancel a trip at any time due to weather, safety concerns or mechanical issues. Refunds and the option to reschedule is at the discretion of PSA and on a trip by trip basis
Minimum of 5 guests are required for snowcat skiing trips to operate.
For more information contact us at (970) 385-2115 or

[email protected]

.
Our terrain
We do not ski or ride in terrain immediately adjacent to the ski area. Instead, the snowcat takes you deep into the San Juan backcountry. Our permitted area lies to the north (including Grayrock and Graysill Mountains) and west of Purgatory (including Hotel Draw and Scotch Creek). Cascade Creek is our eastern boundary and the East Fork of Hermosa Creek is our southern boundary.
With expansive acreage, consistent temperatures, and an average 300+ inches of snow annually, we enjoy cold, light untracked powder weeks after the last storm. We have the freedom to choose from various terrain types and elevations to ensure the best possible powder experience. Runs vary in length from 500 feet to almost 1,500 vertical with an elevation range between 10,000 and 12,300 feet.
Terrain ranges from expansive bowls to steep, tight trees, open cruiser glades, undulating gullies and windlips. A short hike accesses chutes and there are cliffs and cornice jumps as well. Our trees range from nicely spaced old-growth spruce to regenerated Forest Service clear cuts, where the sapling-size trees can be tight.
On stormy days we typically ski and ride trees where the visibility is better. Storms can also create some uncertainty with snowpack. The snowpack in the San Juan Mountains always requires careful and constant observation and skier safety is our number one concern. When storm systems clear out and snow conditions have been properly assessed, we have more options and often head up to the high alpine areas to ski and ride more open terrain.
Our guides
Purgatory Snowcat Adventures employs only the highest trained backcountry guides and snowcat drivers, proficient in avalanche awareness and wilderness rescue techniques. Observing the snowpack and weather conditions is a full-time job that our guides take very seriously. Skier safety is of primary importance at Purgatory Snowcat Adventures. Many of our guides have been on board for 10 or more years. They know the best possible lines in each zone and are happy to share the goods. Our guides keep detailed records of terrain skied between storms to allow for untracked powder every time.
Pro tip: What to wear
TOP
A single base layer (or 2 if you run cold) under
A down insulator with
A shell on the outside (Many ski jackets are waterproof, breathable and compact, allowing lots of layers underneath.)
BOTTOM
Synthetic underwear (NOT cotton)
A base layer (or 2 if you run cold) under
Waterproof pant shell
Ski socks (liners optional)
ACCESSORIES
Buff!!!
Gloves/mittens (Plus possibly extra gloves. Everything gets soaked on a heavy snowfall day.)
Helmet! (Plus a warm hat or ear warmer if you want to take your helmet off between runs.)
Goggles
Pro tip: What to bring
Snacks (You'll be burning more calories than you're used to at the resort)
Water Bottle
Extra Lenses, 2nd pair of goggles or cleaning clothes (goggles often fog or fill with snow)
Hand / Toe Warmers
Stoke!